PLEASE NOTE: I've kept this blog post because it shows that I have been investing in learning up-to-date skills throughout my online business life. This Internet Marketing course has evolved as internet marketing has evolved and I have kept-up-to-date with all things online. VAClassroom has evolved into Freelance University. Fun fact: I became their technical trainer and was one of their mentors. Both roles ended in May 2022. My business has also evolved and my focus is creating and selling online courses, and teaching other creative business owners how to create an online course too!
---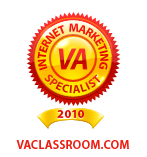 Susan Weeks, founder of VirtualityWorks, an Internet Marketing Virtual Assistance business, announced that she  successfully completed the 2010 Edition of the VAClassroom Internet Marketing Training Program, an innovative, business-building course offered to Virtual Assistants and Online Professionals seeking to develop the cutting-edge skills clients are demanding in 2010 and in the future.
When VAClassroom's first Internet Marketing VA Program was launched in May of 2008, it was predicted that by 2010, 80% of small business owners would have an Internet presence and, would market online. Indeed, as the Internet landscape has changed and evolved, it has become a powerful business-building tool that is relevant to more and more kinds of businesses, both online and local. Statistics show that the number of Internet users increased from 361 million in 1999 to 1.8 billion by the end of 2009.
With this increase in Internet usage, the demand for Internet Marketing is growing exponentially, and the potential for Virtual Assistants with up-to-date Internet Marketing knowledge and expertise has never been better.
That is why Susan Weeks is excited to have added updated Internet Marketing skills to her business, having gained cutting-edge knowledge, tools and tactics that enable her to fully coordinate and implement her clients' Internet Marketing campaigns from start to finish.
And as a direct result of receiving this Certification, Susan has launched a new service which specialises in internet marketing solutions for professional artists (regardless of medium) and other creative entrepreneurs. Her service offers a range of different levels of help & advice, based on a plan designed specifically for each individual business.
"Artists of all types and creative entrepreneurs face many challenges to grow their businesses – creating success with their internet marketing should not be one of them" said Susan.
In VAClassroom's 2010 Edition of the Internet Marketing Specialist Program, Susan learnt:
the building blocks of a powerful Internet Marketing strategy and campaign, including effective Internet Marketing Research tools and Competitor Analysis Reports

Affiliate Marketing

Search Engine Marketing foundations and best practices

Search Engine Optimization and Link Building best practices, including Keyword Research and Optimization.

Email Marketing Tactics and Tools

Website Measurement and Testing
Most importantly, with advanced and updated Internet Marketing skills, tools and strategies, Susan Weeks and VirtualityWorks is now better equipped to help ignite the traffic, visibility and web presence of her clients' businesses and can lead them to the fastest path to success.
"The internet is an essential business tool, but not everyone has the knowledge, skills or time to use it to their advantage. There are a lot of artists and creative small business owners who want to start or improve their online marketing but just don't know where to begin. I want to remove the struggle, confusion and waste of time, money and effort that is experienced by many of these people while they try to grow their online business" said Susan.
As an internet based Virtual Assistant business, working with a global client base, Susan offers a range of niche services, including:
online video creation & marketing,

'tech-free zone', easy to change yourself, WordPress website setup and customisation

Social Media marketing (using Facebook, Twitter etc to market yourself)
Having received the Internet Marketing Specialist 2010 Edition Certification, she is pleased to add cutting-edge Internet Marketing Virtual Assistant services and tools to her business. This certification also entitles her to ongoing training as technology develops so she will continue to offer quality up-to-date Internet Marketing skills to her clients.
To find out more about how Susan can help you take advantage of the power of the internet to market your business, you can contact her directly from this page, or check out the other ways you can connect with her at the top right column on every page.