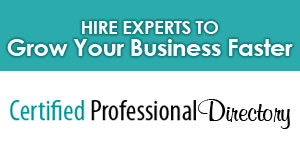 PLEASE NOTE: I've kept this blog post because it tracks my early achievements & marketing in my  virtual services business that I established back in 2010. Since then, Traffic Geyser software is no longer available, and the company was sold. The training course no longer exists BUT VAClassroom has evolved into Freelance University. This post shows I've been running my online business since 2010, and I'm very proud to still be in business. Things have evolved over the years but I'm still here!
---
At the start of April 2011, Traffic Geyser launched their Certified Professionals Directory.
I am proud to announce that I am listed in that directory as a Traffic Geyser Certified Virtual Assistant.
Prior to that, I had been one of a small number of virtual assistants trained and certified by Traffic Geyser (and VAClassroom) working through a subcontract relationship, providing virtual assistant services to traffic geyser members who purchased VA packages direct from Traffic Geyser. Whilst this was a good starting point for my new virtual assistant business, it was not without its complications.
So I was feeling a mixture of excitement and trepidation when I heard the news that the Certified Professionals Directory was going to be launched. Now us VA's would be 'on our own' so to speak.
But it turned out to be the perfect next phase for my own business development.
It also coincided with the hugely popular launch of  Mainstreet Marketing Machines 2.0 Fusion.
…And what an experience it has been…
The volume of enquiries and work has rocketed – I can look forward to some great longer term client relationships, and I am working with great clients around the world.
I have taken the decision to specialise in providing full-time Traffic Geyser Certified Virtual Assistant services.
I have spent time over the last few weeks talking with many potential clients, particularly regarding how I can support their planned 'Fusion'  business…as Mike Koenigs frequently highlights
'you make money using Fusion and outsourcing'.  'Focus on the quality, the value, the turn round time and the experience'.
Well that's why I have committed to this program, and its where my many years of professional IT, project management, technical training and training management experience start to add great value to your goals of launching and growing your successful Traffic Geyser 'Fusion' business.
So as you move into 'launch mode' for your new business venture,
are you feeling overwhelmed,
are you running out of time to get everything done,
struggling to keep up with training,
learning and using new functionality to your best advantage ?
And of course getting busy
finding those clients,
selling more services
and developing your business
…there is such a lot to do isn't there?
Now is the time to start searching for a strategic outsource partnership with the VA of your choice – someone who can work with you as a key part of your business growth strategy.
I would love to talk to you, find out more about your business plans & ideas, outline how I can help you.
Get to know you, your background and experience and for you to discover the same about me.
Let's see how we can work together – Let's Connect & Get Started !